We are a body of very active members! These are our groups!

MUSICIANS
Keyboardists & Drummer

YOUTH CHOIR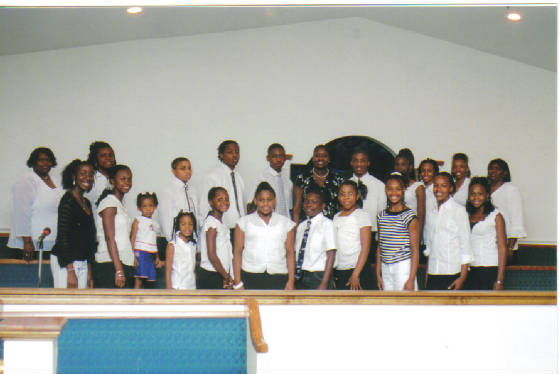 SENIOR MISSIONARY MINISTRY
VESSELS OF HONOR WOMEN'S MINISTRY
DAUGHTERS OF A HIGHER CALLING
ANGELS IN ACTION YOUTH MINISTRY
YOUTH USHER
along with the adult advisors
CHURCH SERVICE - WATCH GOD MOVE


WE ARE A BALANCED FAMILY
CHECK OUT SOME OF OUR FAMILY PICTURES!
PASTOR AND ELECT LADY SMITH
MS. BARBARA SMITH WITH TREVION
MISS CURLA, TRACIE & HEATHER ROZAR
MISS ALPHENIA FOREMAN & MR. JARVIS WILCHER
MR. CAMERON SMITH W/ PROM DATE
MISS MELINA ROZAR, MAYA & BECKY JORDAN
MS. MARKEISHA SMITH WITH FRIEND
MR. LIONELL & CHRISTIAN ROZAR
MISS MAYA JORDAN AND MISS TEEMA STANLEY
MISS CHAZMINE & LITTLW MR. ZION STANLEY
MS ASHLEY SMITH WITH TREVION
MALIK & NICHOLAS SMITH GRADUATION 2007
HOMECOMING COURT 2007 RESPRESENTATIVES
MISS CHAZ STANLEY & MAYA JORDAN
Deacon Mark Smith Jr.
Church Treasurer & Sunday School Supt.